Understanding Exterior Paint Sheens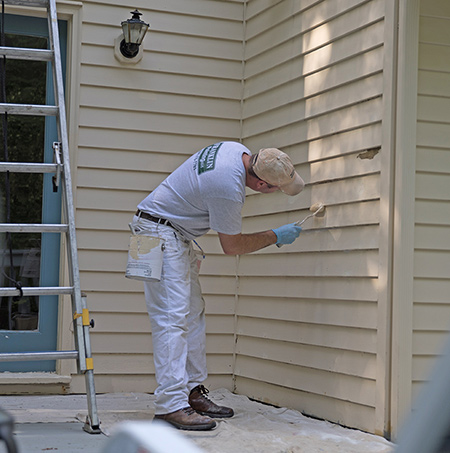 When you first get the idea to paint the exterior of your home, it's a fairly simple proposition: go to the paint store, get the paint, paint the house. But as soon as you get in the paint store and start looking around, you realize there are a lot of different kinds of paints – and thinking back to the job itself, you realize your home has a lot of different surfaces.
If you're after a distinctive result and an exterior that looks wonderful, you need to be familiar with paint sheen, which is another word for "shine." Certain sheens are ideal for certain surfaces, and the right combination is what makes the difference between drab and delightful. Let's look at exterior paint sheens.
Flat (matte) finish
Flat paint is the right paint for the majority of larger surfaces, i.e., walls. A flat sheen, because it contains no shiny elements, brings a soft appearance to surfaces and does a great job in hiding unevenness and blemishes. (Compare this to painting these surfaces with a high-gloss paint, which will create a brightness that highlights every imperfection.)
Flat sheens aren't as easy to clean as brighter sheens, and that's good when you're painting walls. Walls don't get a lot of surface traffic smudges like doorways and window frames do.
Satin (low lustre) finish
Satin finishes contain a little bit of shine, making them easier to clean, but they have enough flat properties to help mask surface imperfections.
Satin is a versatile sheen that can be appropriately used on many types of exterior wall materials as well as smaller, accented areas such as trim, shutters, window frames and any other surfaces that will require regular cleaning.
Gloss (semi-gloss) finish
Paints with a gloss finish really stand out and are perfect for accent surfaces that are in good repair (i.e., not a lot of blemishes) and that may need a lot of cleaning.
If you have an object to paint, such as a door, that has some surface problems, you might be better off just fixing the problems rather than trying to mask them with a flat or a satin paint. Doors look awesome and really stand out when painted with a nice, gloss paint. Other surfaces ideal for a gloss finish include garage doors, metal trim, lamp posts, metal gutters, railings and many types of accent trim.
High gloss finish
High gloss paint is a step up from gloss or semi-gloss in that it provides a harder, more shiny surface, which is great for certain areas as long as the surfaces are smooth and unmarred.
You don't want to go overboard with high gloss paint, but it's ideal for the main entry door of a home as well as a variety of decorative fixtures and accent trim. When using high gloss paint, you have to decide how much attention you want to bring to the painted areas, because high gloss sheens are definite attention-getters.
Color visualizer
Sherwin-Williams has a great color visualizer you can use before you start buying your paint. This tool will help you "see" how various sheens and colors will work together. Check it out.
If you have a paint project that you feel is a little beyond your reach, but you still want a fantastic result, Franklin Painting of Connecticut is standing by with a team of professionals who know how to make your home look breathtaking. You can arrange an appointment or get your questions answered by calling the pros at (877) 646-7774. We serve homeowners throughout the entire West Hartford, CT, region.