Kitchen Color Ideas with Dark Cabinets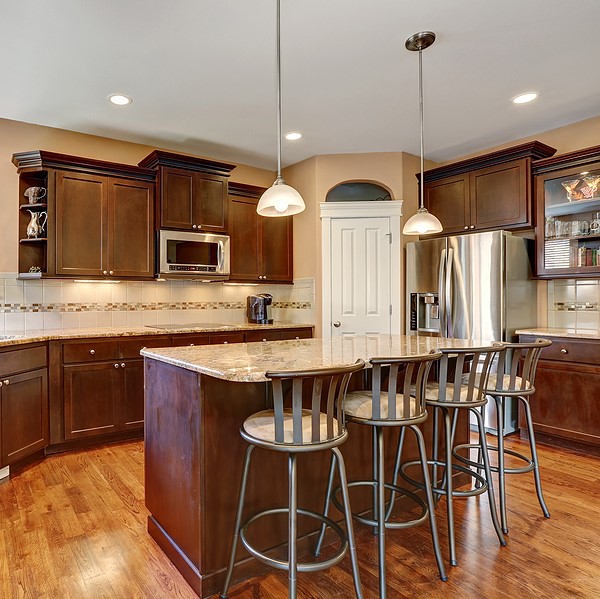 The kitchen is the heart of a home. It's where you cross paths with your loved ones in a rush to grab a bite on your way out the door and prepare holiday feasts. Dark cabinets can make this special space feel fresh and sophisticated or gloomy and drab. What color you have on the walls makes all the difference.
The trick to make a kitchen with dark cabinets feel homey is balance. Dark cabinets and walls make a kitchen feel somber. Creating harmony with either a light neutral or bright, high-contrast color will make your kitchen feel lively and welcoming.
If you have dark cabinets, consider choosing a wall color in one of these categories.
Complimentary Neutrals
Light neutral shades that complement the undertones in your cabinets can make your kitchen feel warm and inviting. You can liven up your kitchen with pops of color through your accessories and appliances.
If you have dark-stained wooden cabinets, consider a warm neutral color. Taupe, linen, creamy white, butter, blush pink, and warm-toned grays are wonderful options to soften dark cabinets' intensity. These neutral tones work beautifully in homes with a traditional or country décor.
If you have dark cabinets with cool undertones, consider cool-toned neutrals like sage green, lavender, griege, or blue-grays. These shades are a lovely contrast with black or espresso cabinetry. Painting your walls, a cool neutral color will make your kitchen feel bright and open. This color palette will complement your decor, whether it's contemporary or traditional.
High-Contrast White
Did you choose dark cabinets to make a statement? Then consider painting your walls white. White walls will make your dark cabinets pop! You can turn up the contrast by adding a white backsplash or soften it with a greyscale backsplash. You can lean into a black-and-white theme for your kitchen that will make it feel sleek and modern. Or make it fun with brightly colored accents.
Bold Brights
If you want a high-contrast option but aren't a fan of white, try a bold, bright color for your kitchen walls! Sunny yellows, bright oranges, dazzling blues, and rich greens pair well with dark cabinets. A little color can go a long way. Instead of painting every wall in a bold color, you can choose an accent wall or two. Then paint the other walls in a complimentary neutral. Keep in mind that bright colors work best in the kitchen with lots of natural light.
Dark cabinets can be drab or dramatic, depending on the paint you choose. You can make your kitchen feel homey with lovely neutral colored walls that brings out the warm or cool undertones in your cabinets. Or make a bold statement with brilliant white walls or a bold color that makes your kitchen feel like the place to be. If you need help narrowing down your options, reach out to the paint pros at Franklin Painting! We have color consultants on our team to help you choose the perfect shade for your living space. Our painting pros serve residents throughout central Connecticut. Give us a call or book an appointment online today!