Kitchen Paint Colors That Work With Oak Cabinets
A kitchen remodel can be as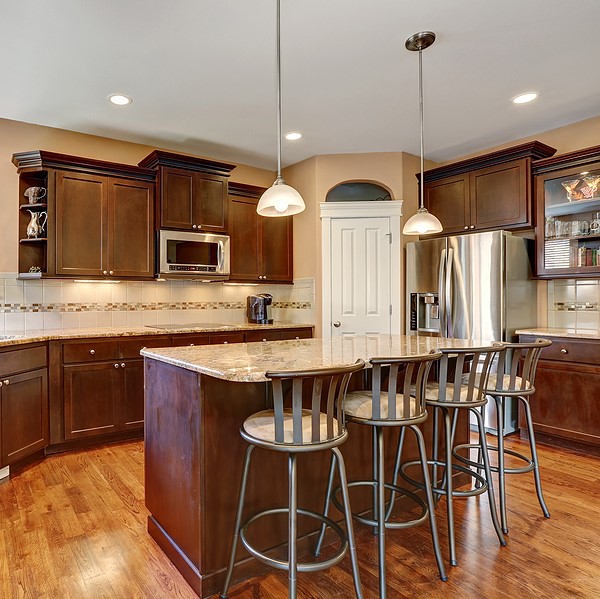 affordable as painting the walls in a way that accentuates the beauty of your cabinets. The toughest part is to sort out the kitchen paint colors that work best with the unique color attributes and natural grains of the wood on your oak cabinets. The suggestions that follow are all fabulous paint colors that work well in a color scheme with oak.
Honey Oak Cabinets
Oak with an orange tint needs to be downplayed to create pleasing harmony. The orange in honey oak cabinets should be toned down. Any color on the opposite side of the color wheel will provide a neutralizing effect. The following are great options.
Warm Beige
Sherwin-Williams Natural Linen SW 9109 is an ideal shade of warm beige that energizes any space. Instead of a drab undertone of heavy brown, this shade has a tinge of yellow. Without creating an overbearing effect, the paint color has warm hues. The natural wood stands out against this shade, and that's the goal.
White
Benjamin Moore's White Dove (OC-17) is a creamy shade that can almost pass as greige, which is a variable color blend of gray and beige. White Dove pairs very nicely with orangey wood tones.
Earthy Green
The Spruce Best Home Matcha SPR-07 is an outstanding shade of green. With its warm undertone, it makes the perfect match with the golden tones of honey oak.
Blue
Paint colors with a blue or slightly purple undertone are excellent matches with honey-toned oak cabinets. The colors diminish brassiness. A beautiful option is Sherwin Williams Comfort Gray (SW 6205). It is a light blue-green paint color with a gray undertone.
Gray
Farrow and Ball Down Pipe No. 26 is a charcoal gray that can marry your honey-hued wood cabinets to the pleasing aspects of your dark side. The rich gray is incredibly rich and complementary to a range of contrasting shades.
Dark Oak Cabinets
Lighter paint hues such as pure white and beige arguably do the best job of complementing dark oak cabinets. However, ripened tomato red is also a great match with dark lines in the oak grain. A few shade ideas follow.
Tomato Red
Magnolia Home's Vine Ripened Tomato by Joanna Gaines has shades of pink and red that beautifully complement dark shades of oak.
Yellow
Solell (AF-330) is a sophisticated shade of yellow that can create the desired harmony with your dark oak cabinets.
Beige
Lighter paint hues can soften dark oak's warm glow. Sherwin Williams Balanced Beige SW 7037 fits with modern trends that are close to steering away from the gray trend. A warm paint color, Balanced Beige leans slightly toward subtle gray.
Aqua
Finally, the Spruce Best Home Distilled Aqua SPR-10 is stunning paired with dark oak cabinets.
Franklin Painting serves Farmington CT and the surrounding area. For the best results with kitchen paint colors that work with oak cabinets, contact our professional painters at 860-678-7701 or fill out our contact form